The Dynamic Duo
A&H Software and i-PRO Supercharge the Enterprise Video Surveillance market with LUXRIOT EVO and i-PRO Active Guard Integration
New York – June 21, 2023 – today, A&H Software announced the complete integration of Active Guard by i-PRO with Luxriot's EVO software family. This deep integration will give users a unique experience, offering a unified software interface combining LUXRIOT's EVO enterprise-level video and data management systems with Active Guard, i-PROs Intelligent EDGE video analytics. Active Guard enables sophisticated objects, people, vehicle searches, and deep analytics. This groundbreaking collaboration offers users a unified software interface combining EVO's powerful video and data management systems with cutting-edge video analytics capabilities. Active Guard brings world-class forensic search and deep analytics to enhance surveillance operations.
"This integration is a game-changer for the industry," says Vitaly Bondarenko, A&H Software's Co-founder and CTO. "By merging the capabilities of the EVO software platform and i-PRO's revolutionary edge AI, we offer a comprehensive solution that revolutionizes video security.  Together we significantly improve situational awareness, smarter decision-making, and improve proactive incident prevention."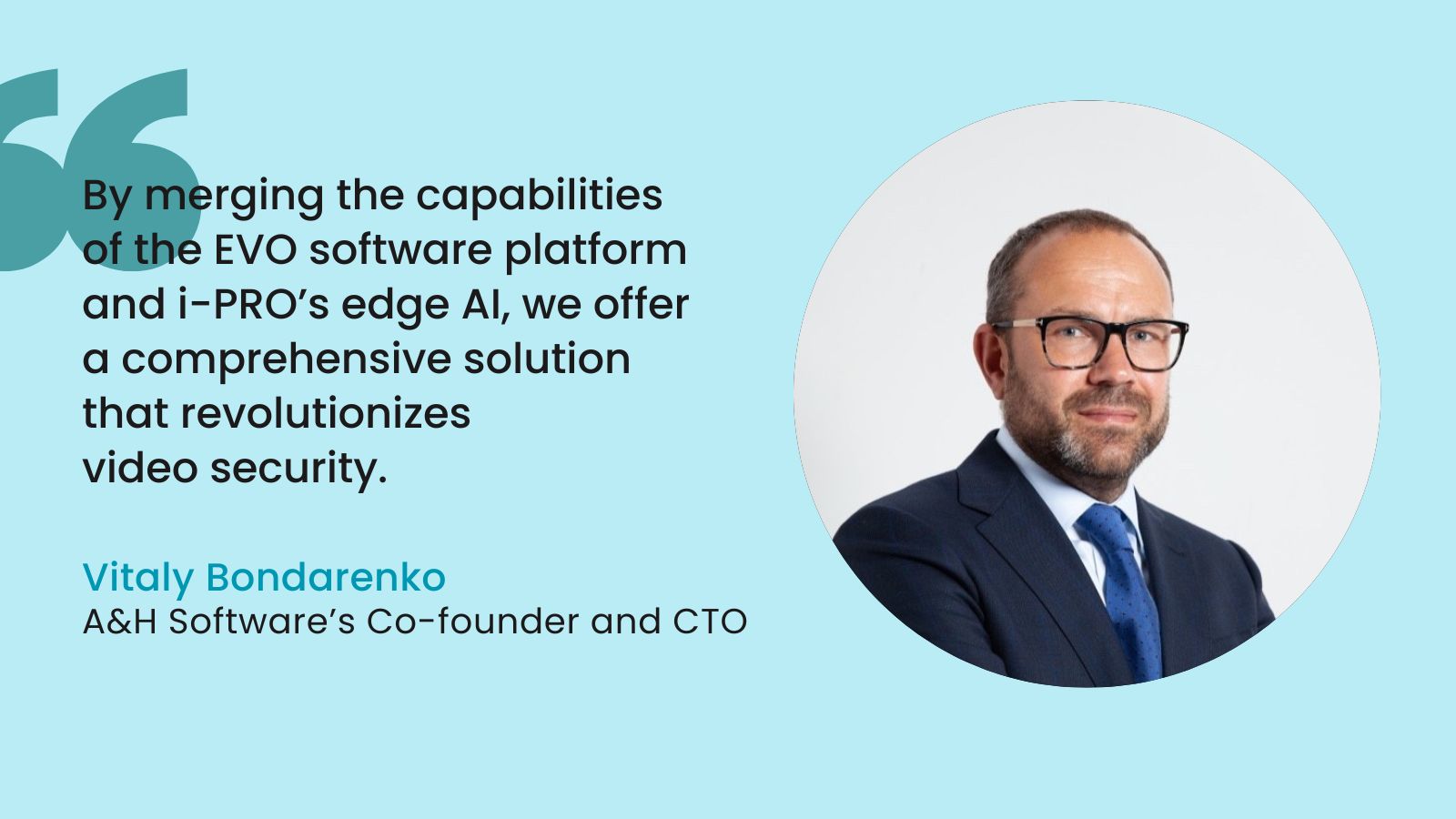 With the EVO and Active Guard integration, security professionals using Luxriot EVO and i-PRO camera technology with Active Guard will no longer have to look at multiple screens for objects of interest or watch hours of recorded video to search for important events. EVO and Active Guard are unified into a "single pane of glass" interface for a simplified surveillance workflow offering reduced human error rate, where operators can search for objects (people, vehicles, and others) based on attributes such as gender, age,  direction,  type,  or clothing color.  Active Guard AI events are bound to the video archive aligned with other data events (e.g., access control,  system events,  manual triggers, etc.), combining event-action chains from virtually any third-party system.
Luxriot EVO v1.24.0 is fully integrated with i-PRO Active Guard and will be available worldwide beginning of July 2023 from Luxriot and Luxriot integrators. For more information about this integration, please get in touch with the Luxriot sales team, who look forward to continuing to provide our customers with innovative solutions that drive their success.
Luxriot EVO joins the esteemed list of video security products that have integrated i-PRO AI analytics, including; Genetec, Milestone Systems, Network Optix, and i-PRO Video Insight.
***
About i-PRO
i-PRO Co., Ltd., is a global leader of advanced sensing technologies in Intelligent Surveillance, Public Safety, and Industrial/Medical Imaging. Established in 2019, i-PRO was built on a legacy of over 60 years of innovation with Panasonic. The company's products, software, and services extend human senses to capture moments of truth with innovations that inform and protect. To help create a safer world, i-PRO Co., Ltd., supports the work of professionals who protect and save lives.
For more information on i-PRO Active Guard, visit: www.i-pro.com
About Luxriot
Luxriot® is a leading developer of high-performance video and data management solutions, providing superior value to private and public customers worldwide. Luxriot® Evo is a complete surveillance ecosystem solution for enterprises of any size. Offering the latest engineering advances and all the necessary tools for setting up an absolute situational awareness system, Evo is designed to provide fast and secure processing at any scale.
For more information on Luxriot video management software, visit: www.luxriot.com
Contacts:
United States ny@luxriot.com Europe eu@luxriot.com Asia asia@luxriot.com APAC apac@luxriot.com